Astronomy Topics For Children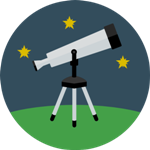 Since ancient times we have believed that the heavens were the realm of the gods with Planet Earth at the centre of it all! Learn about key moments that have helped reveal the true nature of the universe!
The Eclipse Of The Moon And Sun!
There are two major types of eclipse that involve the Earth - a Lunar Eclipse (where the Moon is eclipsed by the Earth) and a Solar Eclipse (where the Sun is eclipsed by the Moon)! These are Must See Events for every young astronomer!