Saturn's Amazing Moon System
Learn About Saturn's 82 Moons!
The moons of Saturn are numerous (the most of any planet in the solar system) and diverse. Technically ranging from the microscopic particles making up Saturn's majestic rings, to tiny egg-shaped moonlets all the up to the enormous Titan (the second largest moon in the solar system and even bigger than the Planet Mercury)!
The distribution of mass across Saturn's moon system is very lopsided with the largest moon Titan, accounting for more than 96% of the mass. The seven next biggest moons (Rhea, Iapetus, Dione, Tethys, Enceladus, Mimas & Hyperion) accounting for nearly all of the remaining 4% leaving the remaining 74 small moons (along with the majestic rings) making up only 0.03% of the mass!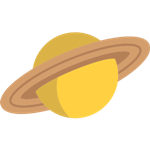 Animation of Cassini Huygens