Learn About ESA's Jupiter Icy Moons Explorer (JUICE)
Destination Jupiter!
The European Space Agency's (ESA) JUICE mission is an interplanetary spacecraft designed to visit and study the Jovian moon system. After reaching Jupiter the probe will flyby and study the icy moons Europa, Callisto and eventually orbit Ganymede - becoming the first spacecraft to orbit a moon of another planet. JUICE is set to launch in 2022 and arrive at Jupiter in 2030.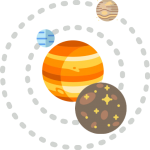 Fast Summary Facts Of The Jupiter Icy Moons Explorer!
Type:  Flyby & Orbiter
Destination:  Europa, Ganymede & Callisto
Status:  Under Development
Launch Location:  Guiana Space Center
Launch Date:  June 2022
Arrival Date:  January 2030
Mission Duration:  7 ½ year cruise, 2 ½ Jovian orbits, 8 months orbiting Ganymede
Fun Facts About ESA's 'JUICE' Mission!
I can't wait for the JUICE probe to arrive and start revealing the secrets of these icy moons! Maybe they'll confirm the existence of liquid oceans and find life!
Jupiter's Icy Galilean Moons