Cool Facts About Saturn's Icy Snowball Moon Rhea
'Mother Of The Gods'
Discovered in 1672 by Giovanni Cassini, Rhea is the ninth-largest moon in the solar system, and the second-largest of Saturn (behind Titan). Rhea is one of the smallest objects to be in hydrostatic equilibrium on account of its 75% water-ice composition and is very similar to its neighbouring moons Dione and Tethys who also orbit close to Saturn. Rhea completes an orbit of Saturn every 4 ½ days.

Fast Summary Facts About Rhea!!
Discovered: December 23rd 1672, by Giovanni Cassini
Name: From Greek mythology, Rhea is the "mother of the gods", sister and wife of Cronos (Saturn in Roman)
Size: Diameter of 1,528 kilometres (949 miles)
Moon Rank: 9th Largest in the solar system
Orbit: Prograde and Circular
Orbit Radius: 527,100 km from Saturn
Orbital Period: 4 ½ days
Orbital Speed: 8.48 km/sec
Density: 1.236 g/cm3
Surface Temperature: -174 °C (sunlight) to - 220 °C (shade)
Surface: Water-ice
Atmosphere: Tenuous (exosphere)
More Cool Fun Facts About Saturn's Moon Rhea!
Rhea was the third moon of Saturn to be discovered and one of four to be discovered by Giovanni Cassini (along with Tethys, Dione and Iapetus).
Despite being discovered in 1672, it was initially called Saturn V (being the 5th moon from Saturn), but in 1847 its name was changed to Rhea to avoid confusion as more moons were discovered.
Rhea is the second smallest body in the solar system, after the asteroid and dwarf planet Ceres, confirmed to be in hydrostatic equilibrium!
Like many moons, Rhea is 'tidally locked' to Saturn as it orbits; meaning the same face of Rhea always faces Saturn. This is similar to Earth's Moon!
Surface temperatures on Rhea varies from a sunny side temperature of -174 °C ( -281 °F) while in the shade it gets as low as -220 °C (-364 °F)!
Rhea's density is relatively low for a moon of this size, being only about 1.24 times that of liquid water. This suggests Rhea is 75% ice and 25% rocky material!
Rhea's high water-ice content is evident from its high reflectivity (Albedo).
Rhea is similar to the moons Dione and Tethys; they are all small, cold and airless bodies. Although Rhea is more heavily cratered and therefore believed to have an older surface.
There is evidence that Rhea is an undifferentiated moon, meaning the rock and water-ice is mixed (rather than all the rock at the core) so is more like a dirty snowball!
The two largest craters on Rhea, located on the side facing away from Saturn, are ancient and about 400 and 500 km across!
A much smaller 48 km impact crater with bright rays extending from it, nicknamed "The Splat", is believed to be one of the youngest craters on the inner moons of Saturn!
The Voyager spacecraft (1 & 2) observed Rhea up-close for the first time, revealing a heavily cratered surface as well as "wispy" lines which Cassini has revealed to be bright fractures and cliffs that extend across Rhea.
Cassini images also reveal that the trailing hemisphere is darker in colour due to the natural darkening which occurs to water-ice over millions of years as radiation alters its surface. The lighter-coloured leading hemisphere is painted with young icy dust from Saturn's E-ring; formed from tiny particles ejected from Enceladus' geysers!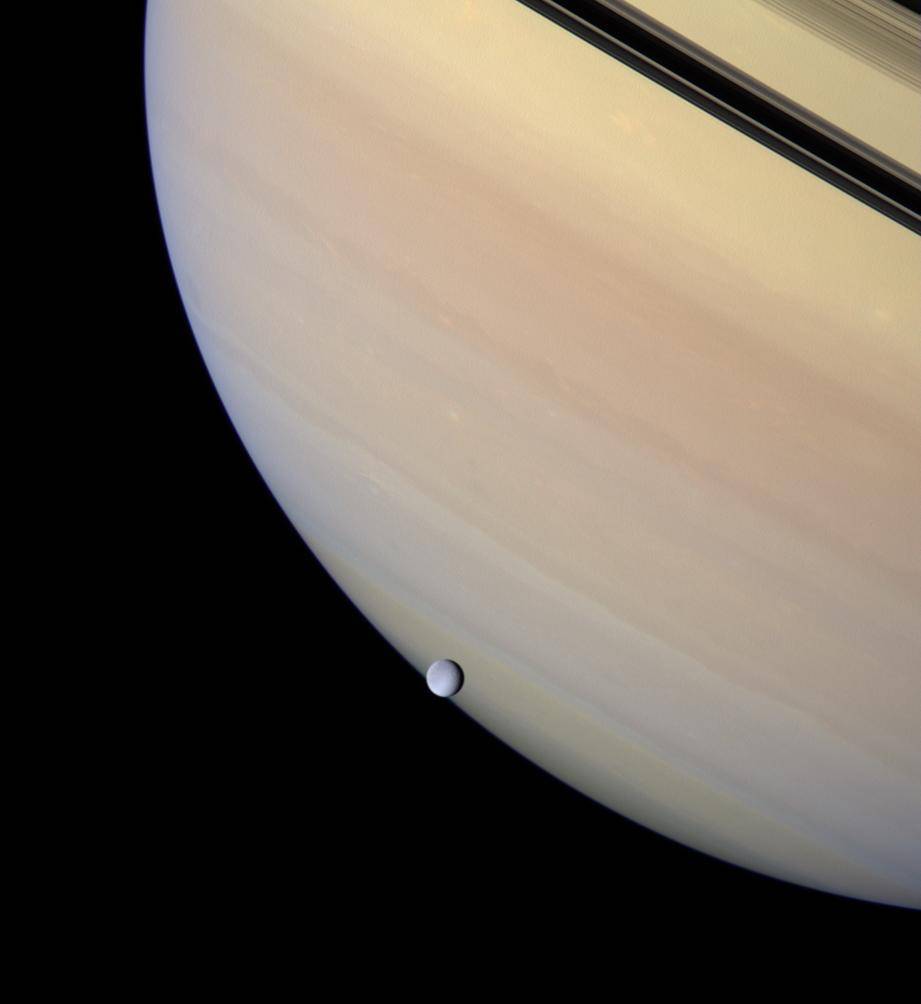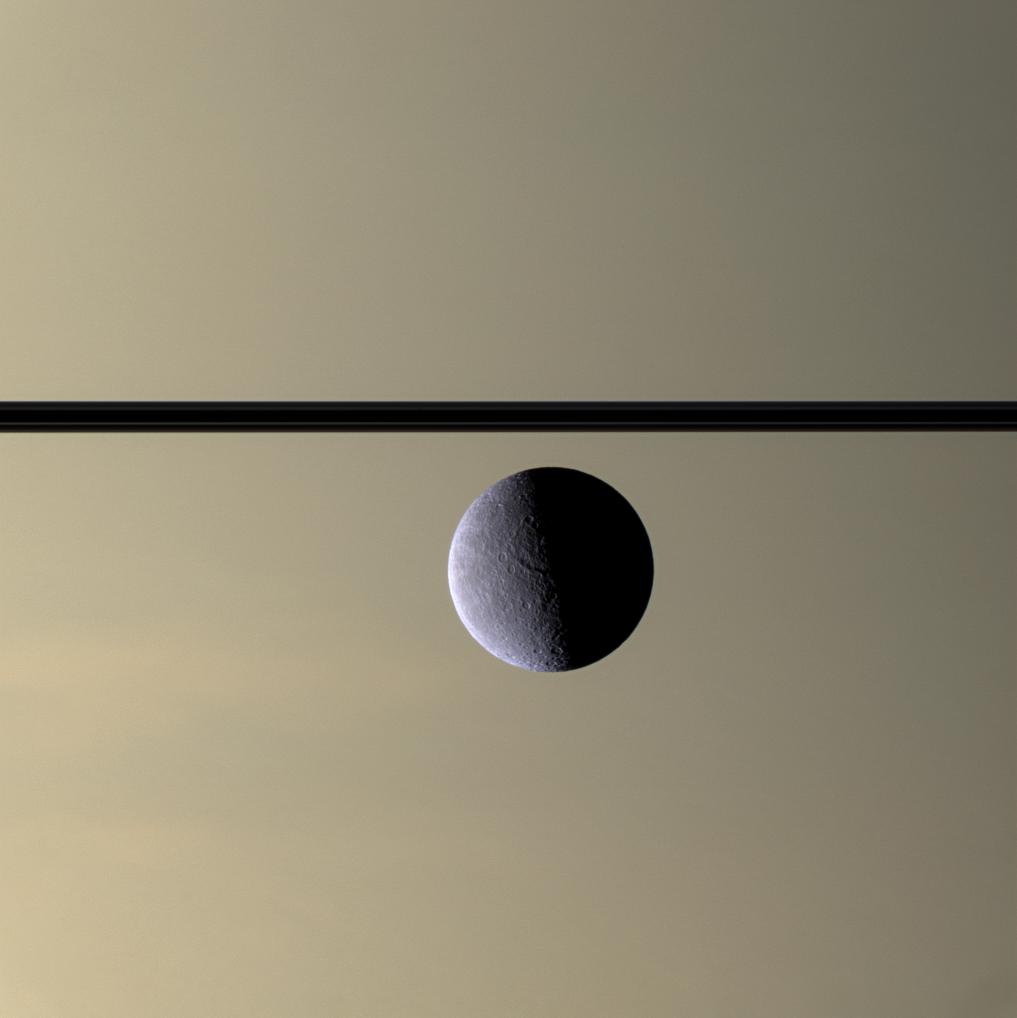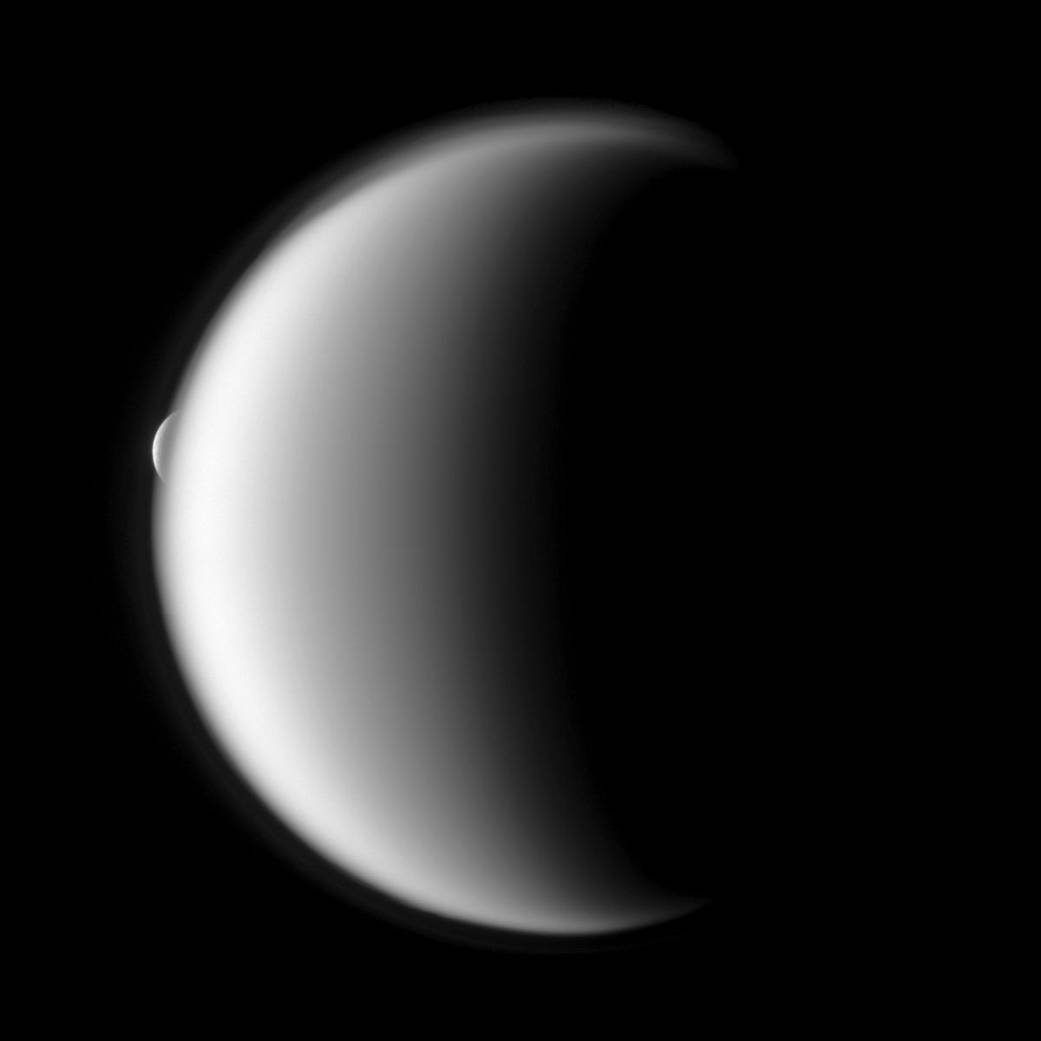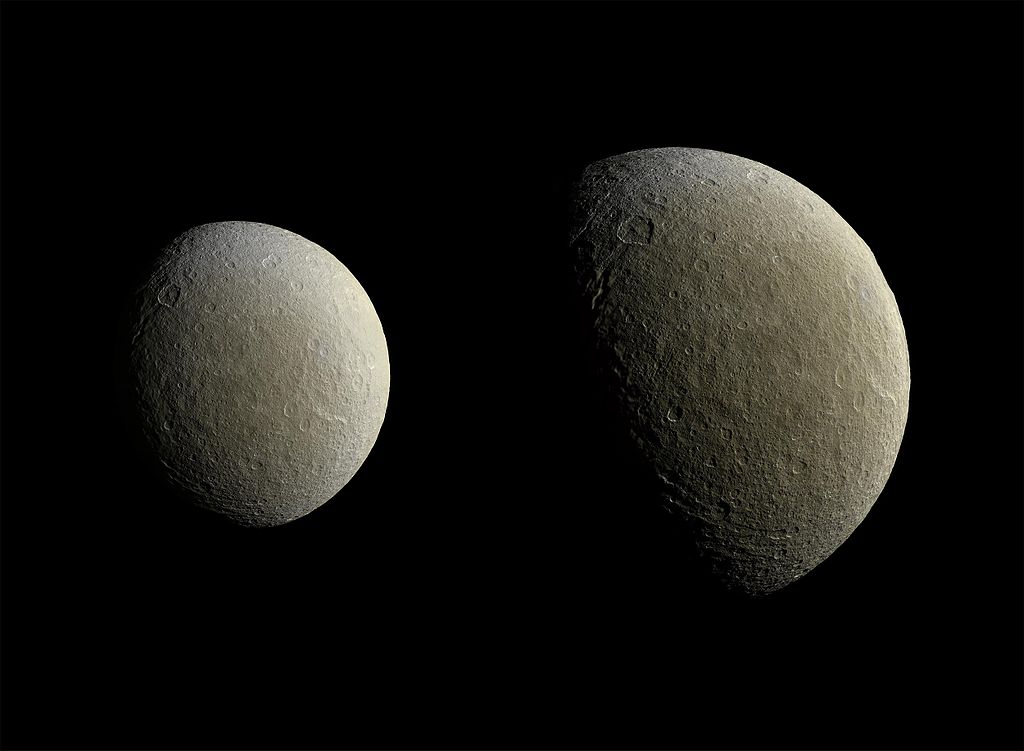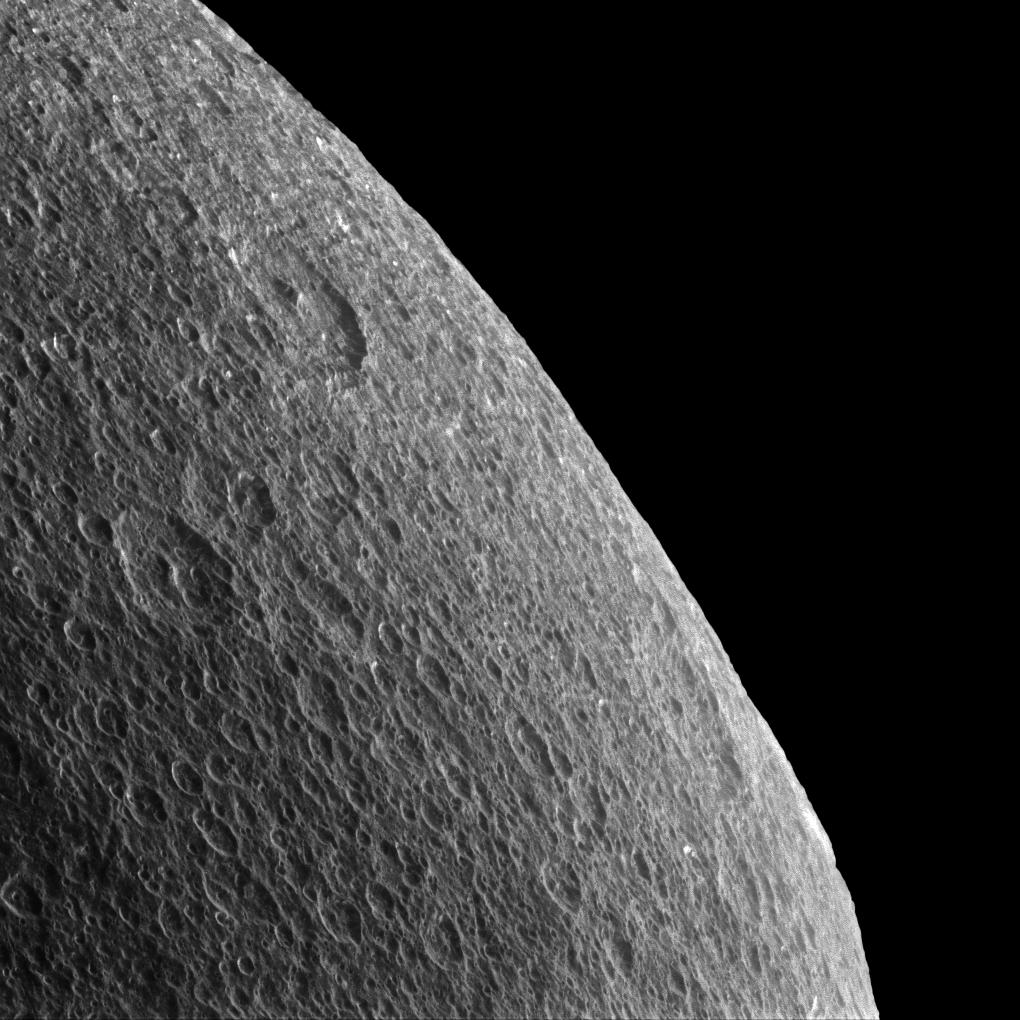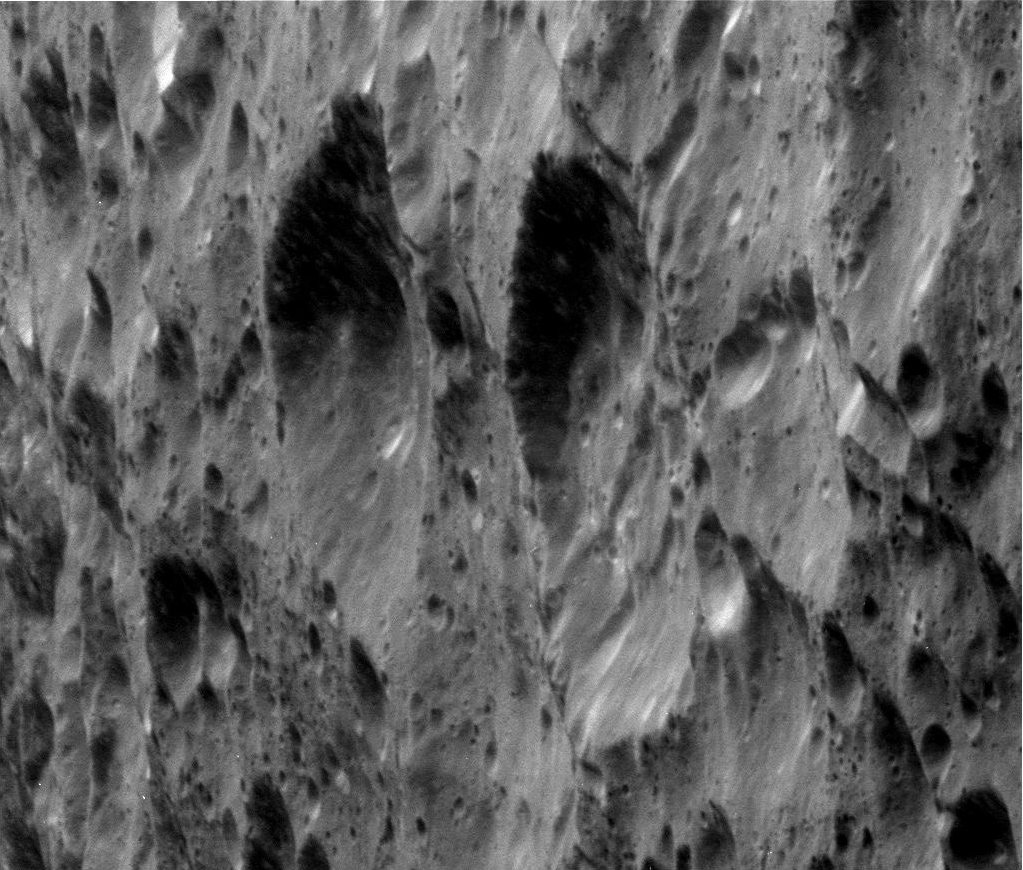 Rhea's SLight Discoloured Side